EVENTS
Candle Lighting Ceremony
"May their light always shine."
The Annual Worldwide Candle Lighting Ceremony was held on Sunday, December 10, 2017, beginning at 6:00 p.m.
View photos taken at our 2016 Candle Lighting Ceremony
Balloon Release
This yearly event was held in San Diego at the Admiral Baker Field on Sunday, September 24, 2017.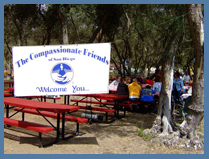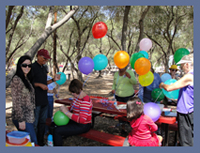 Love Gifts
Donations and love gifts in memory of your loved one enables us to reach bereaved parents with telephone calls and information, and help defray newsletter, web site and mailing expenses. When making a donation please use the form on the Donate page.
Candle Lighting Ceremony

"May their light always shine."
Our Annual Worldwide Candle Lighting Ceremony was held on Sunday, December 10, 2017, 6:00 – 8:00 PM at the Community of Christ Church,
4811 Mount Etna Drive, San Diego, CA 92117 (Clairemont area) with special guests LOVE IN MOTION SIGNING CHOIR under the direction of BJ and Dr. Doug Jensen.
It is always held on the second Sunday of December of each year.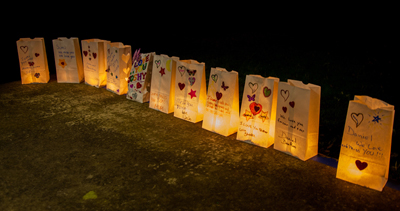 For more information go to the National website www.compassionatefriends.org
In this international event the light is passed around the world in our children's memory. We hope that all who attend found some peace there remembering their children. The candle lighting is held the second Sunday of December each year.

General information about this worldwide event can be found on the national web site: national information.


The National Conference
The Compassionate Friends - 41st TCF National Conference -
"Gateway to Hope and Healing" will be held in St. Louis, MO at the
Marriott St. Louis Grand Hotel, the weekend of July 27-29 2018


Balloon Release and Family Pot Luck Picnic
Our balloon release and family pot luck picnic was held this year on Sunday, September 24th 2017 at the traditional Admiral Baker Field on picnic area #8.
SDTCF provided: the balloons, ribbons and markers, plus hamburgers and hot dogs and buns. Beverages and water will be donated for the group. Everyone please bring a dish to share.