Balloon Release and Family Pot Luck Picnic
Our balloon release and family pot luck picnic will be held this year in September 2019 at the traditional Admiral Baker Field on picnic area #8. Date and time TBA.

Admiral Baker Field
2400 Admiral Baker Rd.
San Diego, CA 92124
Google Maps Link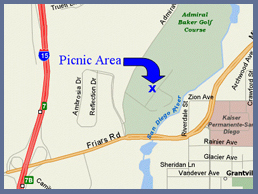 Directions:
I-15 to Friars Road. Head East for about one mile
Make a left turn onto Santo Road
Take immediate right onto Admiral Baker Road
Go downhill into the parking lot

Candle Lighting Ceremony

"May their light always shine."

Our Annual Worldwide Candle Lighting Ceremony will be held on Sunday, December 8, 2019, 6:00 – 8:00 PM at the Community of Christ Church,
4811 Mount Etna Drive, San Diego, CA 92117 (Clairemont area).
It is always held on the second Sunday of December of each year.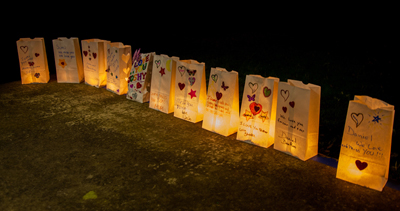 For more information go to the National website www.compassionatefriends.org
In this international event the light is passed around the world in our children's memory. We hope that all who attend found some peace there remembering their children. The candle lighting is held the second Sunday of December each year.

General information about this worldwide event can be found on the national web site: national information.

The National Conference
The Compassionate Friends - 42nd TCF National Conference -
"Hope Rings in Philadelphia" will be held in Philadelphia, PA at the
Philadelphia 201 Hotel, the weekend of July 19-21 2019.